Ribbon Blender Manufacturer
Each and everyone has a general idea of a Blender. But describing the blender is not easy.  The goal of anything that mixes things together, in particular an electric mixing machine with different characteristics, and usually in differing quantities, as evenly as possible. Introducing qualified movement of the correct strength into the materials achieves blender. A simple movement in only one direction with the inadequate acceleration of the materials would obviously not result into a homogeneous blend of the desired properties. This would be more like stirring than blending.
How much qualified association is introduced is a significant standard. Conditions in the victorious combination include all of the material volume to be mixed and also achieving the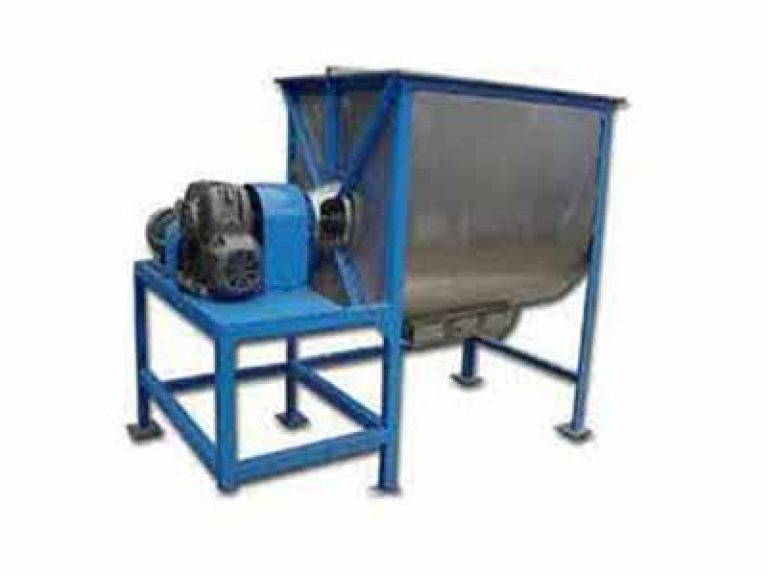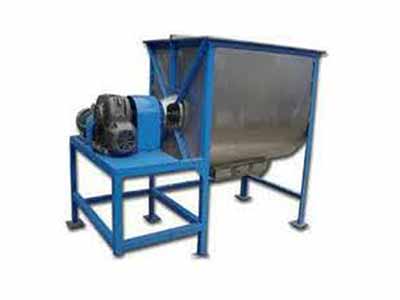 highest feasible possibility that a particle being in a specific position at the beginning can be found at any accidental location in the combination chamber at the end of the process. This is the only way to make sure that a constant outcome is achieved every time blending is repeated and that's what we are here to do.
MISSION & VISION
Our main motto is "Building Customer Satisfaction through Quality Service and Value" and providing customer cost effective material processing solution through technology and innovation.
OUR TEAM
Our team backed up with expert CAD designers, product engineers, quality analyst, technicians, sales person, marketing manager and customer support executives,
QUALITY ASSURANCE
We are committed to provide a wide range of ribbon blenders that conforms cGMP/cGEP standards as well as ISO standards and to ascertain the obligation with the standards,
Arvinda Blenders are an endorsed name for rendering world class quality U and W shaped ribbon blenders, which are configured to provide the utmost mixing efficiency during the blending of small volume materials to mega volume materials. The unrivaled aspects of our U and W shaped ribbon blenders like low energy consumption, low maintenance, noiseless operation, increased capacity and superior speed has enabled us to speed has enabled us to embark strong impression in the allied market along with elevating higher levels of success in a very short period of time.
We are the fastest growing, well-recognized and our endeavor towards adherence to the international standards, cross inactivity control and severe inspection during the manufacturing process, starting from the selection of raw material to the dispensing for delivery has made our product robust, reliable, secured, and impeccable throughout the continuing operation of blending. As per a long-term purpose for our business, we are engaged in offering a wide range of Ribbon Blender Manufacture in India. The offered blender is manufactured by our skilled professionals using most favorable evaluation material and classy techniques in obedience to set industry standard. Further, it is carefully checked on several quality parameters before being dealing to our clients assuring its excellence at user's end. Clients can avail this blender from us at economical price.
What is Ribbon Blender?
When we come to ribbon blender, we will associate with powder mixer, of course, that's right. Ribbon Blender also called as horizontal mixer, this mixer is used to make materials fully mixed, and improve the mixing consistency.
With new rotor structure, the minimum gap between rotor and light body can be adjusted to be close to zero. It can decrease the amount of outstanding materials efficiently, and crush the larger materials; the overall structure is more reasonable, nice manifestation, stable operation and maintenance.
The maintenance of ribbon blender is a tremendously important regular work, it should be working closely with most of operations and maintenance, etc, in addition, it should be accepted a full-time duty checks.
What makes Unique from other blender Manufacturers?
The broad range of ribbon blenders is made of stainless steel 304, in compliance with all cGMP / cGEP standards and versatile to function as blender, paste mixer, vacuum dryer, granulator and coater.
To meet the rigorous demand of varied industries, we introduce an inclusive range of ribbon blenders, ranging from 50 kg volume capacity to 2500 kg volume capacities which are ideal for chemical industry, food industry, pharmaceutical industry, cosmetic industry, fertilizer industry, plastic industry, fertilizer industry, pigments industry and all other analogous industries which requisite blending mixing.
Mixing is done using either a ribbon or paddle protester. Our provided double ribbon agitators, with the original reverse-spiral design, deliver uniform, high-capacity blending at low power cost. After the above process the mixing is held in constant suspension providing for an excellent uniform mix of the product. Paddle assemblies mix using a tumbling motion and have less product shearing during the process.
Special Features of Ribbon Blender
The shape of the container and mixing stirrer gives sufficient continuous movement to the powder / granules, which can result in good quality.
It has to be handled with maximum care to ensure safe operation of the unit.
It should be fully covered on top side of the container and the inching facility for stirrer for discharge of material is also done.
The blender is provided with operating panel for safe operation.
General structure completely made out of mild steel & painted in Standard Model & the same is covered with SS304 in GMP model.
Safety Guards & Covers made out of SS304 in GMP Model & made out of mild steel in the Standard Model.
The Panel provided with following facilities in 500 Liters & bigger model of Ribbon Blenders.
Emergency stop provided in panel and Digital timer for batch time setting.
Limit switch provided at top cover for safety purpose.
Inching push button with selector switch for inching operation during discharge of material.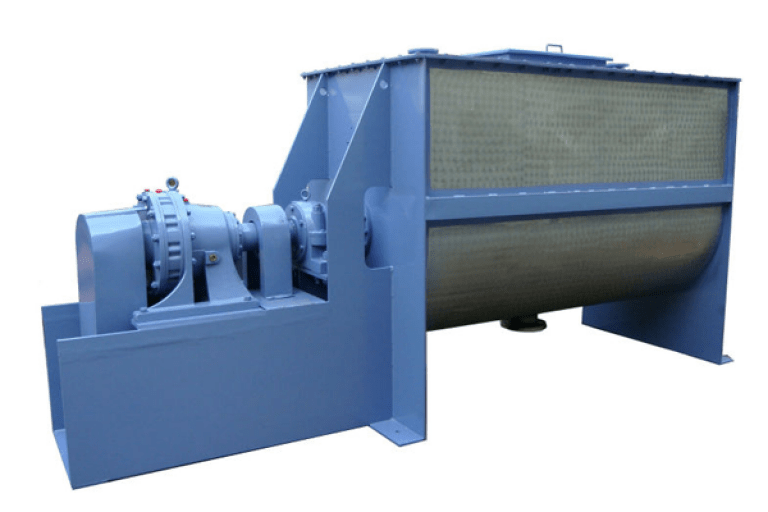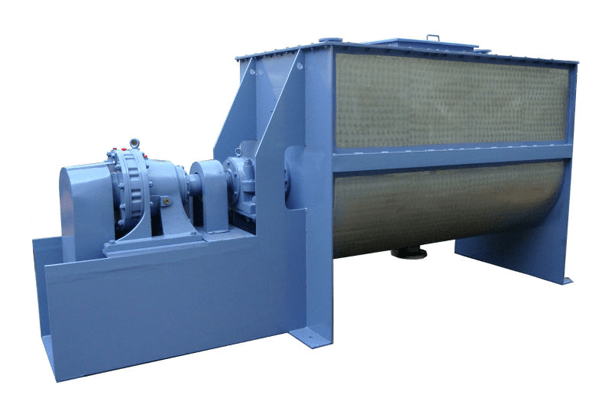 Ribbon Blender provided by us are a light weight duty blender mostly used for easy mixing powder parts. It is a low shear mixer is usually used for mixing , cosmetic powders, lubrication of dry granules in large quantity, dry blending of capsule formulation, dry mixing of free flowing powders requires less shearing force. Our offered Ribbon Blender is well designed and developed using latest technology with sharp blades of ribbon at approximately speed of 70 to 100 per minutes , which is used for proper mixing of material in both directions in short cycle times. As demanded by client this system is designed to provide efficient blending, durability , with double helical ribbon agitator support for fast and efficient action our different types of ribbon Blenders are Horizontal Blender Machine, Large Scale Ribbon Blenders,U – Shaped Ribbon Blender,W – Shaped Ribbon Blender, Single Shaft Ribbon Blender, Double Shaft Ribbon Blender, Ribbon Blender High Capacity Ribbon Blender,Pharmaceutical Ribbon Blender,Industrial Powder Mixing Machine etc is available at economical price in the market.These blenders are specifically designed to give the complete and radial movement for efficiently mixing consistent material and in different form as per customized form as per requirement of client
Application Areas
| | | |
| --- | --- | --- |
| Pharmaceutical | Dyes | Chemicals |
| Food Products | Organics | Pigments |
| Agricultural products | Minerals | Pesticides |
| Fertilizers | Spices | Cosmetic Powders |
| Herbicides | Animal Feed | Dietary Supplement |
| Bird Seeds | Instant Drink Blends | Talcum Powder |
Products of Arvinda Blender
| | | |
| --- | --- | --- |
| Horizontal Blender Machine | Large Scale Ribbon Blender | U-Shaped Ribbon Blender |
| W-Shaped Ribbon Blender | Single Shaft Ribbon Blender | Double Shaft Ribbon Blender |
| High Capacity Ribbon Blender | Pharmaceutical Ribbon Blender | Industrial Powder Mixing Machine |
| Ribbon Mixer Machine | Fertilizer Ribbon Blender | Plastic Powder Blender |
| Detergent Mixing Machine | Carbon Black Mixing Machine | Food Powder Mixing Machine |